Having a little time off due to a series of South African and religious holidays we headed to the KwaZulu Natal coast. Although, Trent had already been to Durban, the kids and I hadn't and I refuse to leave this country without seeing every inch of it! Unfortunately, we were not the only ones headed to Durban for the Easter weekend, so the 5 hour drive took more than 9 hours! Poor Trent was miserable after driving so long, but the kids behaved incredibly well! We are raising some very good travelers! When I was their age I could hardly stand the 3 hour drive to Pinetop without whining and complaining yet Aiden and Anna can handle a drive like this with only a few "are we there yet"'s (this is most likely due to the beauties of technology like the Ipad). We were all very happy to finally make it to the hotel but the kids where even more thrilled when they learned they had their own room. Anna went about redecorating with her personal things immediately and they felt very grown up as they decided to stay up way passed their normal bed time.
The next morning we headed to the beach right after breakfast. The kids couldn't wait to get in the water, but I myself was very skeptical considering the water in Cape Town is freezing. It was a nice surprise to find that unlike the Atlantic on the Cape Town side, the Indian Ocean is actually warm even in April (which is technically the beginning of winter here). The beach in Durban is a long stretch of sand with a wide boardwalk running parallel to it. Tall, skyscrapers of buildings line the beach and while their size and abundance is impressive the architecture leaves something to desire. The buildings are older and very 1970's but it appears they may be making an effort to update the area a bit. The beach itself is beautiful and the sand is incredibly soft. Just up the way from where we stayed is one of the new stadium additions created for the World Cup. It is by far the coolest of all the stadiums and while I am not sure why they would invest so much money into building so many stadiums for one sporting event, it is a tourist attraction to say the least. You can even take a cable car up the side of it to the top for what is most likely an incredible view.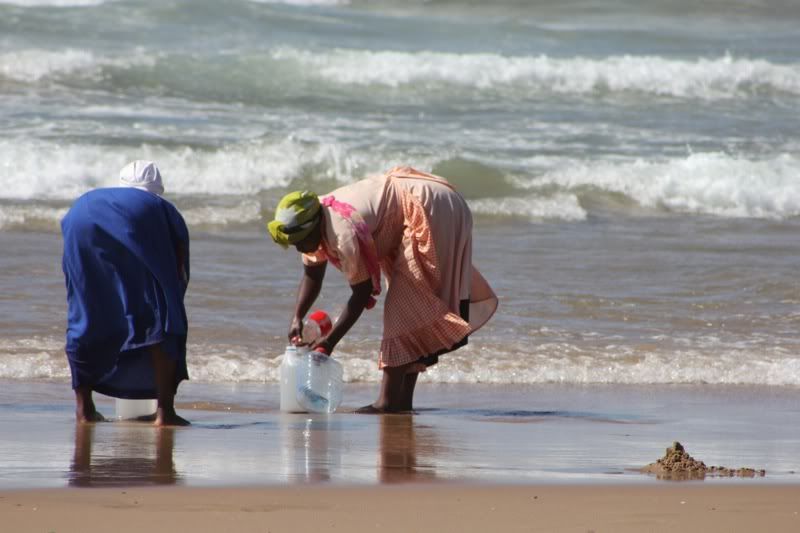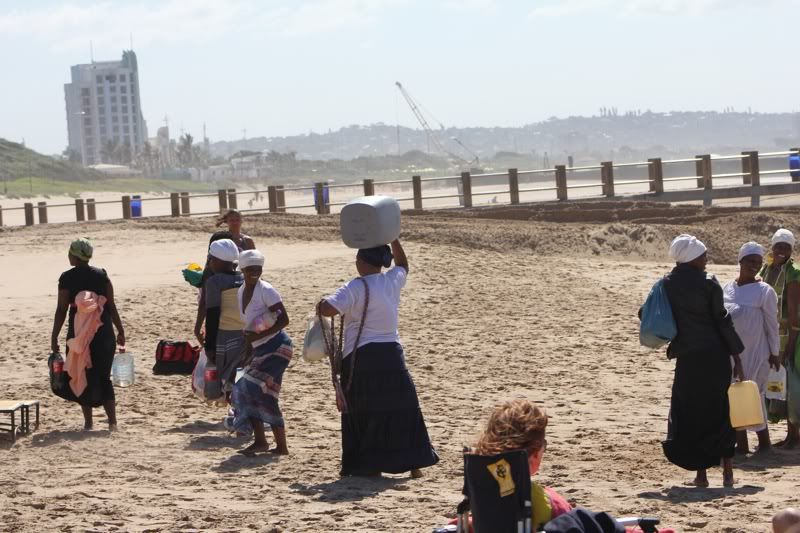 Although, it was Saturday, one of the more popular religions here (I'm not sure which one it is) considers this their Sabbath day, and it was a treat to watch a mass of people dressed in their traditional turquoise and blue robes, at the beach worshiping and performing baptisms in the water. I felt it wasn't appropriate to take pictures but I really wanted to! What I did take pictures of was another large group of people that walked down to the water fully dressed with bags and bags of plastic bottles. A local friend had recently told us that the sea water is very special to this culture and that she brings in back to Johannesburg as a gift to her maid, so we assumed that was the reason these individuals were filling up bottle after bottle of it! After they finished filling up their bottles, they swam around in the water fully dressed. Fortunately, the kids and Trent were building a sand castle next to the group so I was able to shoot some pictures inconspicuously as I pretended I was photographing the kids! I am so fascinated by this culture, and I was dying to go over and ask them what they planned to do with the water. I find myself watching and wondering about people all day long here...it's just such a curious place!
After a long day at the beach, we decided to stay indoors and visited another of South Africa's mega malls, Gateway. After 3 hours we didn't even see half of it…oh I'm going to miss the shopping here.
It was a little strange to celebrate Easter away from home, as we weren't able to maintain our traditions, like dying Easter eggs and the kids were a bit concerned that the Easter bunny wouldn't find us in Durban. Although, he was a bit of a procrastinator and did his shopping the night before at Woolworth's the bunny managed to hide eggs and candy all over the hotel room in time for Easter morning, much to their relief. Other than that it didn't really feel like Easter and I found myself reminding the children several times that day to remember what we were supposed to be celebrating!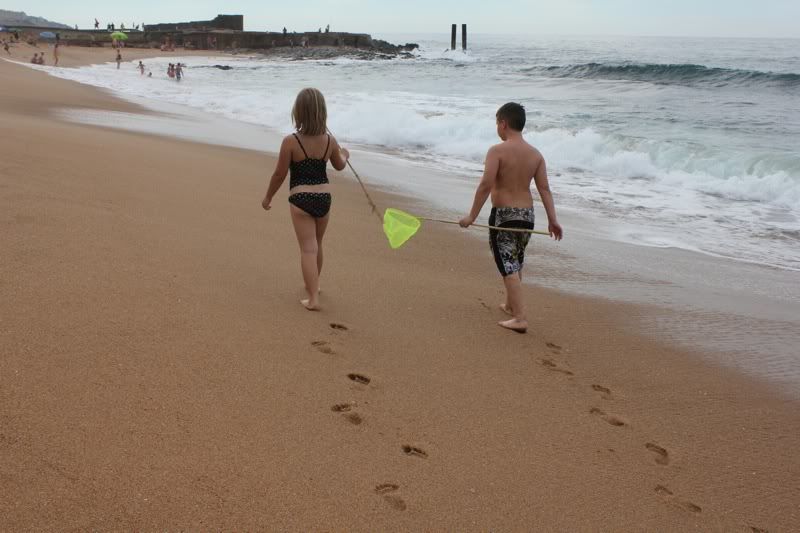 Even though we were staying right on a beach, we decided to drive up the coast a bit farther to check out some of the other beaches. While the two we visited, Balito and Salt Rock, weren't nearly as impressive as Durban's beach, they were located in cute, very swanky towns. There is a lot of money to be found in this part of the country, that's for sure! The part of the coast we visited is nicknamed the Dolphin Coast, and wouldn't you know it, not 30 minutes after we arrived a pod of them swam by just 20 meters from where we sat! The kids also enjoyed the tidal pools where they attempted to catch fish and crabs with their nets.
One of the highlights of the trip was a visit to the UShaka Sea World and Water Park located right on the beach. It is nothing compared to our Sea World, but they have a noteworthy aquarium and they offered a pretty good dolphin and seal show too. We didn't stay in this part long, however, because the kids couldn't wait to hit the water park. One great thing about activities in this country is they are far more reasonably priced. Admission to both parks for all 4 of us cost as much as one ticket to an amusement park in the States. After a long day at the park, the kids still hadn't had enough swimming and convinced us to spend our last afternoon at the beach. On the way back, we got a ride in a very pimped out rickshaw. I tried to convince the old man just to take the kids for a ride but he insisted I jump in too…needless to say he was pretty sweaty by the time we finished.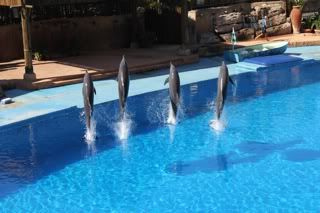 On the way home from Durban we took a small detour off the main interstate through what they call the Midland Meander. There are some historical sights along the route, including the place where Nelson Mandela was arrested, as well as crafts, shops, restaurants, and vineyards. This was another of those areas where I question whether or not I am in Africa. I'm not sure who is responsible for giving South Africa such a poor reputation, as this country never ceases to amaze me. With the green rolling hills, fall colored trees, lavish estates and quaint cottages, this more closely resembled what I expect to see in a European countryside not in the middle of a so-called 3rd World country. We added another few hours to our drive home with all the stops we made but we all agreed it was worth it.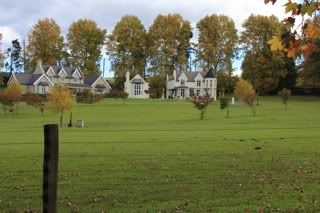 We arrived home just in time to get ready and pack for our next adventure…Zimbabwe here we come….