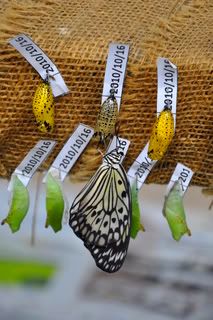 "The girls" (aka Dawn and Courtney), their roommate Ashley and I decided to take advantage of my new ride and escape the thick smog of Joburg. We decided to take a trip to Pretoria (one of the main capital's of South Africa) to see why it is nicknamed Jacaranda City. A Jacaranda is an incredibly beautiful tree with purple flowers that only blooms here between October and November. While there are quite a few of these trees in the area where I live there is estimated to be about 100,000 of them in Pretoria alone. There wasn't exactly an address of where we would find the tree's once we got to this large city, so we set off without much of a plan. I did Google Pretoria, to find out a little bit about the city and places to see while we were there and I discovered that there is a large rose garden on the outskirts, called Ludwig's Roses. The girls, being just as easy to please as I, were up for anything and with a little help from Val the GPS we were able to locate this little spot of Heaven. Ludwig's Roses is no garden, it is acres and acres of millions of roses with hundreds of different types. It was quite a sight to see row after row of lovely roses with unique names such as Forever Friends, South Africa and Rainbow Nation. We walked around for an hour looking at the roses and the beautiful grounds, and then had a delicious lunch at their beautiful little cafe. We drank rose tea with a huge slice of homemade bread topped with Rose jam. Afterward we walked through a very humid butterfly garden, where unfortunately most of the butterflies were still trapped in their cocoons. It was so great to be here with "the girls", as they were just as excited about this place as I was and I loved hearing them constantly commenting, "oh this is so great", "this is the best" every few minutes!
After we reluctantly left this oasis, we drove into the heart of Pretoria hoping we would come across the rows of Jacaranda's we read about. It was an incredible feeling to turn onto one of their main roads and to be instantly surrounded by purple. It was so shocking that I forgot that I was driving and received plenty of hoots (that's what they call honking here) before I remembered and sped up past 15 mph. We eventually just pulled over so that we could gawk at the trees and look like total tourists, as we took millions of pictures off the busy road. We drove around a bit longer and every street we turned down was lined with these incredible trees. On a less busy road, we pulled over again, and this time thought it would be a great idea to take pictures of ourselves in the middle of the street in order to get a really good view of the trees. I can't imagine what we looked like sitting in the middle of the street and then running away every time a car came. I felt like a teenager again, doing silly things, giggling and acting like we are the only people in the world.
After our immature photo shoot we decided it was time to head back to Joburg. On the way we passed a stunning, massive building, surrounded by lush grounds, statues, and fountains and just had to stop to find out what it was. As we walked up to the first entrance we could find, we found a tour guide and decided to ask her what this place was. It was quite embarrassing to find the answer to my ignorant question, "we just stumbled upon this place, what is it?" in which she responded "well, this is the Union Building, where the President and Cabinet work, it's our version of the White House". WOW can I just tell you how foolish I felt! We laughed about it all the way home. Courtney gave the perfect analogy. . . can you imagine someone walking up to our White House and asking, "what is this place?".
Can I just say, 1. I love love love having a car, 2. I love driving in it with silly, fun girls, and 3. I love being jobless in South Africa!