I did not take this picture... Just wanted to show you a full view!
One of the "must see" sights of Southern Africa is Victoria Falls, spanning over a mile wide it is the largest curtain of water in the world. It drops into the Zambezi river, which is the 4th largest river in Africa. We were fortunate enough to have an opportunity to see this in person. We flew from Johannesburg to Livingston, Zambia and then took a shuttle over the border to Zimbabwe where we stayed for 3 nights.
When we landed in Zambia my initial reaction was "Now this is Africa"! The airport is tiny, and located in a rural area surrounded by dry bush and sparse trees. This was a very different expeirence then landing in Johannesburg which is a huge metropolitan area. The drive to Zimbabwe took approximately 45 minutes and it was interesting to drive through Livingston, as this is a very small town, with very old colonial style one story buildings... no mega shopping malls here! In order to cross over to Zimbabwe we needed to get a visa and that in itself was an ordeal. We stood in line for almost 2 hours outside in the blazing heat. Not only was there only one person working there, she had to hand write out the information for every Visa!! Everyone was a bit grumpy and the kids were thirsty and tired so it was a great relief when we finally arrived at our hotel, The Kingdom.
The following morning we walked through town a bit and then over to the falls. Just as in South Africa there were people trying to sell us souvenirs, including Zimbabwe currency (due to over inflation this currency is worthless and they are using the US dollar now). While I have experienced high pressure sells in SA, it was nothing compared to what we experienced in Zimbabwe. You can say no 300 times and they will still follow you around convincing you to buy from them. This was also our first expeirence with the African barter system and they seemed to prefer payment in the form of our shoes, hats and clothes! It was very bothersome and annoying and made it very uncomfortable to walk around. I will say however, as annoying as they are, they are very friendly and helpful. One of the younger boys showed us some elephants along the way and gave us information about the town and the falls. There are many Zimbabwean people living in SA, due to government issues, and I have always found them to be the friendliest people I have ever met, which actually makes it even harder to say no!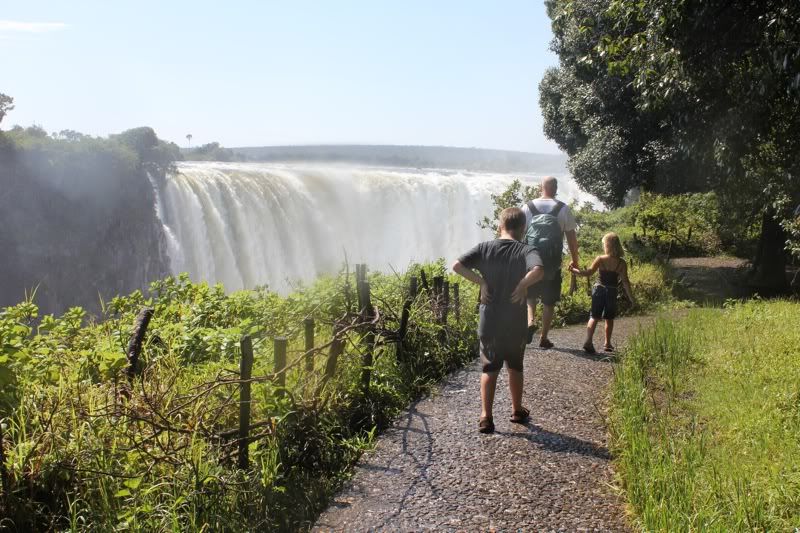 When we arrived at the falls, I rented a raincoat, as we were forewarned that we would get very wet, and Trent and the kids wore their swimsuits (or swim costumes as they call it here)! You can hear the falls and see the spray from the falls for miles, so you can imagine what it is like up close and personal. The park that you walk through is a beautiful rainforest, because of all the water coming off the falls, and it reminded us of Hawaii. We just so happened to be at the falls when the water level was the highest, which made for a spectacular but very wet sight! My raincoat didn't help much, and by the end we were all drenched!
There are a lot of activities you can do in this area, such as bungee jumping, zip lining, river rafting as well as elephant back safaris and walking with lions. Because of this we planned to be here for 3 days to get in as much as possible. What we didn't know was that everything is crazy expensive. Each activity is more than $100.00 per person and many of the activities would not allow children under 15. We had done so many of these things in South Africa that we didn't feel like we were missing anything, we were just kind of bummed that we booked so many days here. Unless, you plan to participate in all the activities, one or two nights in this area is plenty.
Besides the falls, one thing we had to do was take a ride on the Zambezi, so we decided to go fishing, something Aiden has been begging to do. Anna was not thrilled and it took a lot of convincing for her to come along! We had a great guide and captain (who also doubled as our chef) and being on the river was surreal. It is a massive and beautiful sight! Not 2 minutes after we left the dock we ran into a crocodile and there were also hippos near the banks! So when the guide and Trent jumped out a little farther down the river to bait fish, I was a little nervous for them! After about 30 minutes it was time to get back in the boat as there were some crocs coming in their direction! We were a little worried that we would catch anything as it was the day after a pretty good rain. But within just a few minutes of casting, Aiden hooked the first fish of the day! It was a tiger fish, a predator with very sharp teeth! This fish is only found in the Zambezi, Chobe and Congo rivers...so it was a great fish to catch for Aiden's first fishing expeirence! Just a bit later Anna caught her first fish, another tiger! Trent hooked a couple of large tigers too, but it can be a tricky fish to bring into the boat and they both got away! Just before we were getting ready to finish up Anna caught not only the biggest fish of the day, but an abnormally large one for it's species (not sure the name of it, but the guide was really excited and called it a trophy fish)! It was a very fun and exciting morning to say the least!
We spent the rest of our time there at the pool, which the kids loved, but of course I was itching to get out there and see more! Unfortunately, we didn't have a car and anything I wanted to see was quite a drive. I didn't have to much time to be disappointed however, because the next day we were off to Botswana...