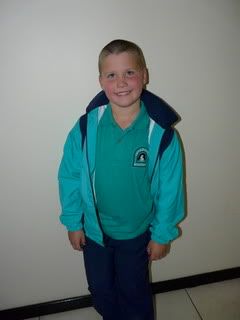 After attempting to home school the past couple of weeks, we decided it would be best for all parties involved if the children attended school! Fortunately, for Miss Anna there is a pre-primary school in the complex where we live so we were able to get her registered for grade R (more like preschool than kindergarten) very easily. Finding a school for Aiden was a much more difficult task. Because they start school here in January and go year round, he is coming in at the end of the 3rd term. Public school is not really an option in this country and trying to find a vacancy in a nearby private school was like trying to find a vacancy at a descent hotel in New Orleans during Mardi Gras. Last Friday we had driven past a small private school campus and decided to stop in and check it out. We immediately liked the teacher and principal and the classroom that Aiden would be going into only had 15 children! The tuition was reasonable, in American dollars, and since it is a private school Aiden would not need a study permit to attend. We filled out the application and his first day was yesterday! He was so nervous when we dropped him off and so were Trent and I. The teacher found him a boy in his class to show him around and we left him looking slightly sheepish which is abnormal for Aiden! When we pulled into the parking lot at 1:00 (the school day is 7:45 to 1:00p.m.) we weren't sure what we would find. But there he was with another boy on the playground throwing a spare tire (which Aiden tells us is a game)! Today when we picked him up he was sitting at his desk with 6 boys and girls around him looking at a book! The teacher tells us he is doing great and he is such a good reader! She said she told the kids to be kind and not to tease him because of his accent! Trent and I thought that was very funny since we don't have the accent they do! Aiden said that all the kids asked questions about what America was like and if he liked America or South Africa better. When I asked him how responded to this question, he said he told them he liked them both the same! Smart boy!
Aiden's adjustment to school was much smoother then our attempt to buy his school supplies! They gave us a list of "stationary" items to buy and although it was an English it might as well have been a different language! We had no idea what pritt was (glue stick) or koki's (markers). There were twenty other items all of which seemed foreign, even a ream of copy paper has a different name! About the only thing I recognized was pencils and scissors. Fortunately, the man at the stationary store (no Walmart here for back to school shopping) was able to gather all of our items so we didn't look too foolish!
They wear uniforms at school here (even public school), which of course I think is wonderful! They are pretty strict with appearance and they mandate how hair should be worn and even how your fingernails should be groomed! Obviously Aiden's new hair style would not fly at his new school! We had already shaved it all off anyway! We were joking about that being his new look! Of course, my mom had a heart attack when she saw that picture which was the point.
I'm not sure how much either child is going to get out of school while we are here but the opportunity they are having of being in another country and around children of different culture's is priceless! Just learning to adapt is an educational experience! They may have to make up 1st and 3rd grade when they get back but it will be well worth it!