We just arrived back in Joburg after a nice 5 day holiday (that's what the fancy people on this side of the world call a vacation) in Sun City, South Africa. After a bit of drama at work (involving a fire that Trent had absolutely nothing to do with, thank goodness), Trent's company decided that now was as good a time as any to give the guys a couple of weeks off! So while most of the guys went back home to their families, we are taking this opportunity to explore the area. Sun City is about 2 hours north of here and is a great little vacation hot spot where people go to getaway for the weekend. We think it's their attempt at Vegas but it really can't compare as it only has about 4 resorts with very weak casinos. But it does have a world renowned resort called The Palace, which is pretty exclusive (you can't even get in unless you are staying there, which we did not!).
We stayed at a resort that was designed with children in mind. There is a small zoo on the property with all different types of birds and monkeys and other native wildlife. They also have bumper boats, a train, quad rides, goofy golf and a lake where you can go boating and ride jet ski's. Although we considered going to Cape Town or even leaving the country during this break we decided on Sun City because there is so much for the kids to do. We planned a full itinerary and were able to accomplish nearly everything we wanted to with just one minor complication. The first night we were there I became very ill. The cause is undetermined but most likely the South African water carries a parasite unfamiliar to my digestive system! I spent the first two days of our holiday in bed :(. Fortunately, the kids they were able to go to Camp Kwena, a day camp at the resort that provides various activities and field trips. The first day the kids went to Predator Land and saw lions, cheetahs, snakes, etc. and the next day they went to a crocodile farm where they saw 3 of the world's largest crocodiles: Terminator, Footloose and Undertaker. The best part of me being in quarantine was that the kids were able to spend lots of time with their dad; going out to eat, playing at the arcade and doing things around the resort.
When I was able to muster enough energy to venture out of the hotel room we went horseback riding. It was a short ride and we were lead by guides but the location was beautiful. It actually reminded me a lot of Arizona. Anna rode the cutest pony and looked adorable in her helmet! My guide was from Zimbabwe and was very talkative. I couldn't understand everything he said but he was still fun to talk with.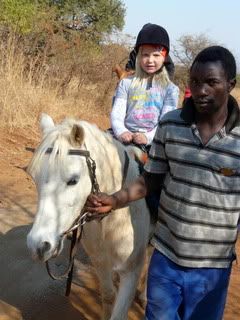 The next day we went to the Valley of the Waves, which is a water park near the Palace resort. It had a wave pool and lazy river and some great slides. The water was absolutely freezing and Trent thought it was very funny watching me get sprayed with ice cold water in the lazy river (he never even got in). But I got plenty of my own laughs watching him try to run around inside of a large ball like a hamster! I might have to post the video on YouTube.
My favorite activity of the week and probably of my whole life, was a game drive in the Pilanesburg Reserve. It is quite a different experience to see animals in their natural habitat vs. at the zoo. We were driven around in a large open jeep with a very knowledgeable guide. The park is home to the Big 5: lions, elephants, buffalo, rhino, and leopards but there are no guarantees what you will actually see. There are also several other animal species residing in the reserve including hippos, which is the one animal I really wanted to see. It must have been my lucky day because immediately after entering the park we came across a family of 4 hippos. They were playing in the lake pretty close to the road and it was incredible to watch them as the guide gave us some information, including the fact that they kill more people in Africa then any other animal! On the drive we also saw impalas and other types of native antelope, wildebeests, wart hogs (aka Pumba), zebras and giraffes. We also had the opportunity to see 2 black rhinos (which the guide told us was a very rare sighting) and a few white rhinos. We knew the chances of seeing lion were slim to none as they spend most of their time lounging around in the shade and are camouflaged by the tall dead grass, so we were not that disappointed when we couldn't find any. Anna was really hoping to see an elephant and we were surprised when the guide told us he would do his best as they can be difficult to find! Trent being the tracking expert that he is, spotted some elephant tracks on the side of the dirt road and we were hoping the elephant was still nearby. About 10 minutes later, Trent saw a large male just 30 ft. from the road. It was incredible to watch the elephant wrap its trunk around a small branch, break it off and chomp on it. After watching the elephant for awhile the guide started up the car and was getting ready to drive off when the elephant started walking closer to the road. The guide thought it would be great if we could get a closer look. Little did we know that it would walk right in front of our jeep!
The elephant had definitely taken notice of us and we could see him watching us out of the corner of his eye. This massive animal can actually turn on a dime and charge us quicker then we could blink if he chose too! It was a thrilling and terrifying experience! Fortunately, for us he decided it would be more entertaining to park himself on the road in front of us and pretend to be interested in eating a very dead bush. I could have watched this for hours; however, the kids were over the excitement after about 10 minutes. They of course needed to go to the bathroom at that very moment and there was no getting around the massive elephant. We could do nothing but wait until he decided he was ready to move on. Anna started complaining about having to wait and how bored (pronounced bowed) she was and Aiden was doing the pee-pee dance quietly trying not to draw to much attention to our jeep. Anna eventually found the Ipod touch in my purse and played a game on it while Trent and I watched and listened to the beautiful beast in front of us. It was quite humorous (and embarrassing) to see our kids completely indifferent to this once in a life time opportunity. I was in awe at the magnitude of this event, we are in Africa for crying out loud, and the kids are playing games on an Ipod and trying to figure out how they can get the elephant to move out of the way! He eventually did move about 45 minutes later and we were able to get passed and find a bathroom. Although, the tour was supposed to be about 2 hours the guide drove us around for nearly 4 hours! He was able to find some crocodiles and another herd of elephants before we left. This herd included a newborn baby, which was so cute, and probably the highlight for me! All in all it was a great day and we look forward to several more game drives before we come back to the U.S.A.
One of the most interesting aspects of our resort is that there are monkeys and baboons everywhere. While we thought it was very exciting to see monkeys walking through the property the people working at the hotel are not amused. The monkeys according to the staff "are very naughty" and they do whatever they can to steal food. They will even come into your room if you leave a door open. At breakfast they are everywhere and they work as a team to try and sneak past the security guards (who wear vests that say Primate Control). The guards carry paint ball guns and will shoot the monkeys if they get close to the food. On one occasion a sneaky monkey made it all the way to the cereal and was eating hand full's of before he was shooed off. Other monkeys managed to get sugar packets off the table and they actually open the packets and pour the sugar into their mouths!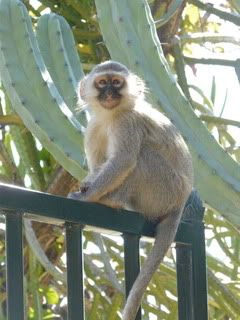 On the way home from Sun City we took a small detour, on accident thanks to the Garmin, and found our way on a small back road instead of the highway. Trent was pretty upset but I was elated. The scenery was much better and we drove through this darling town called Hartbeesport which is located on a massive dam. We didn't stop but will definitely be heading back as it was very local and cool, with great shopping and restaurants. We are living in a very large, very typical looking city so it was a lovely surprise to find this quaint little town. I am anxious to find more places like this which remind me that I am not in Mesa anymore (not that I don't like Arizona, I just didn't fly for 18 hours to see cactus and concrete). But the novelty soon wore off when just a few miles later we came upon McDonald's! We stopped of course and I have to admit there is nothing better than their soft serve.
All in all we had a wonderful holiday. I am so grateful that Trent has this time off and we are able to have these experiences together. I am getting more comfortable here everyday and my anxiety about being in a different country so far from all of our friends and family has reduced significantly because at least we have Trent back! It also helps to have him around so he can chauffeur us everywhere, since I still can't drive!