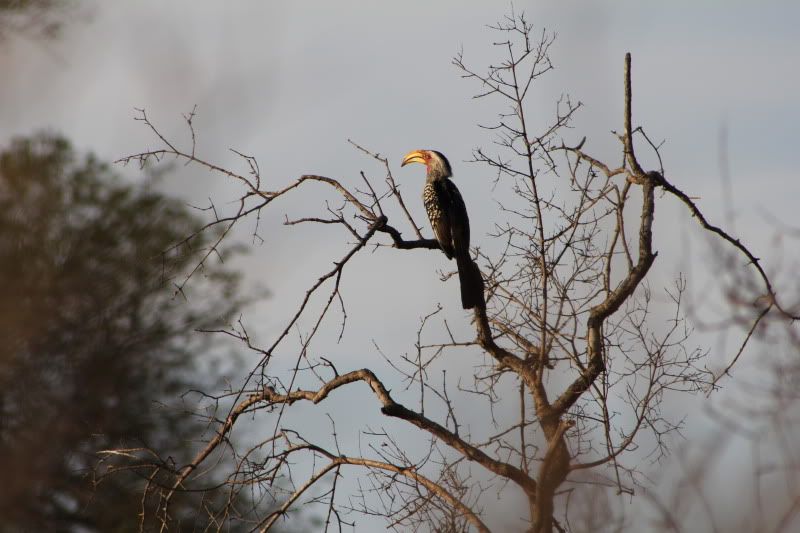 My friend Elaine, who I have known for over 10 years (I worked with her at Tri-City Management), decided to take advantage of the amazing opportunity of me living in South Africa and come for a visit! I of course am happy to have visitors (hint hint) and will take any excuse to be a tourist in this beautiful country! In an attempt to see the best of South Africa in just over a week we strategically planned 3 days total in Joburg (which is a fun place to live, not necessarily the most tourist friendly) 2 ½ days at the Kruger National Park, and 2 ½ days in Cape Town. As I have mentioned in previous entries, there is nothing quite like taking a game drive through the bush and seeing wild animals and birds up close and personal. I am now realizing there is nothing quite like going on a game drive through a major, seriously massive, national park. . . Kruger is huge!!! We stayed at the Mohlabetsi Lodge, which is one of the many private reserves located in Greater Kruger. While there is a boundary fence, there are no dividing fences inside the reserve, allowing the animals to roam as freely and naturally as possible. Because Kruger is so large, it is possible to drive for more than hour without seeing a single animal. Fortunately, we were able to go on a total of 4 drives during our stay, increasing our chances of seeing the Big 5 and my favorites the giraffe and zebra. At first I will admit I was slightly disappointed to be driving for so long and only seeing some birds and Impala, but then I realized that because this is a much more natural environment when you finally discover one of the more fascinating animals it is that much more exciting. On the first night here, our tracker and guide were able to locate 2 male elephants. While I have seen large herds during drives through smaller reserves, I felt very lucky to see these large bulls as there not many elephants roaming the area we were driving, as they travel wide spans of land and typically stay near permanent rivers and there are none located in the nearby surroundings. Even more exciting, our guides allowed us to get out of the vehicle and very quietly walk closer to these massive mammals in order to get a better look. Strangely I was not as terrified as I should have been, knowing the power of these great beasts, as I trusted the judgment and knowledge of the guides. Based on the body language of the elephants, the guides felt that we would not alarm them nor were they a threat to us and therefore, it was perfectly safe. It was exhilarating to tip toe through the bush and see the animals from that vantage point. After that adventure we stopped for some snacks and beverages while we watched the sunset. Once it was dark our tracker turned on the spotlight to find the nocturnal animals. I have yet to see a lion on an authentic safari, but I was hopeful as the guides told me my chances were much better during a night drive. Sure enough just about 30 minutes into the drive another ranger called to report they had spotted some lions. Our driver, in an attempt to see the lions, sped through the bush hoping to catch them before they disappeared. We were disappointed when we arrived to learn that the lion had run off. However, just a few minutes later the tracker was able to locate the lions laying around lazily in the bush. It was a lucky find, as they can be quite difficult to spot since they blend in with the dry brush. After watching them for a bit we headed back to our camp. On the way, our tracker spotted a Bush Baby, which I was very excited to see, as they are a silly little nocturnal monkey with giant eyes and are as cute as can be.
When we arrived back at camp we had an incredible dinner outside in a "boma" which I learned is a circular formation bordered by straw fence that is purposely designed to keep out predators to allow for a safe dining experience! Because we were outside we dined with more than just the other guests, as there were bugs everywhere! Only on a safari would I allow a beetle to crawl across my plate without flinching. Our beverages were covered by this pretty beaded mesh thing to keep the bugs from getting in. I was hysterical when I realized that I had seen these mesh things at several local markets and I thought they were some kind of decorative religious hat, like a Yamaka! Now of course, I see how practical they are and I will have to get some! I told Elaine what I had thought they were and of course she told everyone at dinner. One of the guests suggested I should put on my "hat" for a picture!
The trackers and guides along with the great friends we made.


Each drive we went on was exciting and rewarding as we were able to see giraffes, zebra, elephants, various antelope, eagles, reptiles, and a hippo! The highlight of the entire trip was the game drive on the last night. After dark, as we were driving around with the spotlight, an elephant was spotted just off from the road. We could hear another elephant in the area, snapping branches and waited to see if it would emerge. The guide backed the Land Rover up a bit, just in time to catch the other elephant with the spotlight. He did not seem to pleased to have his late night snack interrupted and eventually walked in front of our vehicle. It was a terrifying experience to have this incredible large mammal standing in front of us, head on, clearly challenging us. He flapped his ears in a warning and stared at us for what was probably less than a minute but felt like forever. I had my camera ready for the best photo op however, I was worried that my click may trigger him to charge and I would be the one who caused us all injury so I didn't take the picture!! After that scary but awesome encounter we drove around for another hour or so without spotting a thing. I was sad to go back to camp, knowing it was our last night drive but it was time for dinner so I went back to my room to get ready. As I was on the phone with Aiden telling him about the elephant, we received a knock at the door and the owner telling us that there has been a leopard sighting and to hurry back into the vehicle. Leopard are by far the most difficult of the Big 5 to see on safari, as they are shy and elusive. I apologized to Aiden, hung up before he could say goodbye and was back in the jeep in record speed. Our guide took off in the direction of the Leopard and although it had been several minutes since it was last seen, the tracker was able to locate the female. It was a lucky and wonderful opportunity to see the leopard only to have the added excitement of seeing two cubs run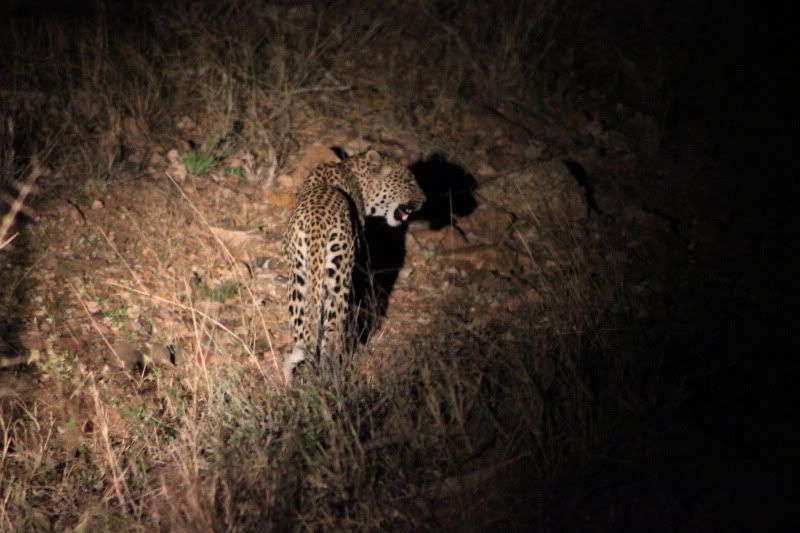 out behind her. We were able to watch the Leopards for probably 10 minutes before they wandered deeper into the bush and we were unable to find them again. I was so grateful that Elaine was able to see so much including 4 of the Big 5 (we never did find Buffalo, which was disappointing but they aren't one of my favorites anyway). This was definitely one of the best trips I have ever been on. It was such a tranquil environment and without t.v., computers, cell phones and sounds of traffic, it was a peaceful and relaxing holiday. I am not sure why I am so blessed to have these opportunities. I thank God everyday, for the many blessings he has bestowed upon me and especially for his beautiful creations he has given to all of us to enjoy. These experiences remind me how much he loves us, and what truly matters. As I prepare to go back to Johannesburg, the "concrete jungle" I hope that I can incorporate the things I experienced out in nature into that busy, noisy life. But even if I can't I will always have the memories!